CORKEN
SLIDING VANE PUMPS Z2000; Z3200; Z3500; Z4200; Z4500
Application: LPG Road Tanker - LPG Terminals

CORKEN PUMPS Z MODEL SLIDING VANE VERSION: Z2000; Z3200; Z3500; Z4200; Z4500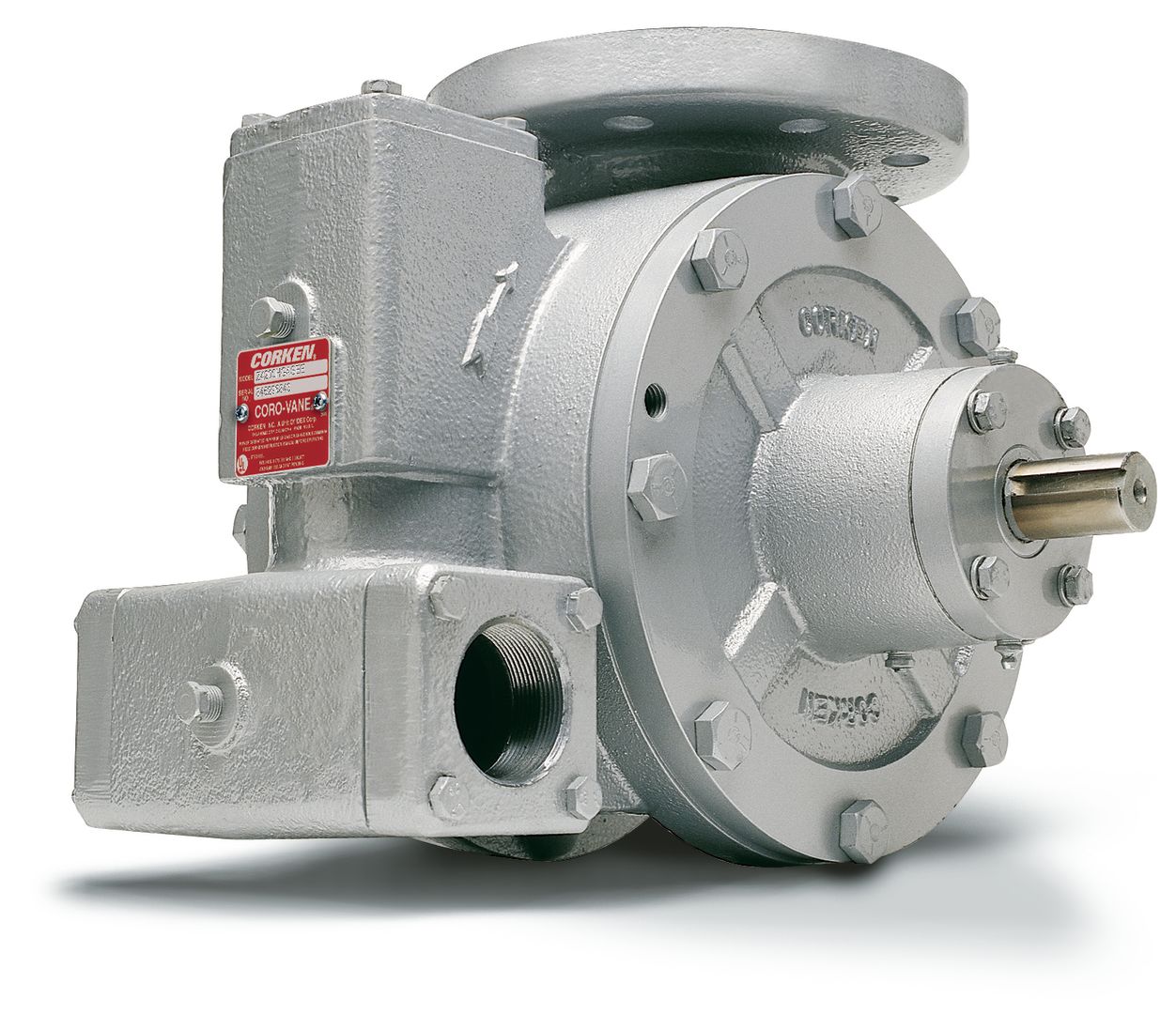 A new generation of Corken pumps
The CORKEN pumps Z-Series are a new generation of truck pumps specifically designed to comply with the pumping requirements demanded by the LPG industry. Bulk delivery of LPG requires the use of heavy duty, reliable equipment and is an important part of every LPG marketer. The equipment used in modern bulk trucks must be designed and constructed to perform in a broad spectrum of operating conditions.
Meeting the Demands of Today's Pumping Conditions
The operating conditions of a truck pump are very demanding, and only a pump designed to perform under these extreme conditions can successfully do the job day in and day out. The Corken pumps Z-Series are specifically designed to perform in such severe operating conditions as high differential pressure, pump overspeeding, poor suction conditions and heavy thrust loads associated with a power take-off (PTO) drive system.
Controlling thrust loads and cavitation are critical for extended pump life.
Large diameter non-metallic pins are not speed sensitive so you can operate the pump at a higher RPM and not damage the pump.
High tech materials used on cam and blades extend the life of the pump.
Up to 7% or more capacity at 640 RPM.
Unlike other three-inch stationary pumps rated at 640 RPM, the Z3500 is rated up to 800 RPM providing higher capacity without damage.
Maintenance is made simple. When it becomes necessary to service the pump, all you need to do is remove twelve head bolts to inspect the bearings, seals, sideplates, rotor, vanes and vane drivers.
Retrofits the Corken model 1021 pump and other three-inch competitive pumps with little or no change in piping.
Corken pumps Z-Series available in 2", 3" and 4" sizes known as Z2000; Z3200; Z3500; Z4200; Z4500 pumps
CONSTRUCTION:
Designed for high pressure applications with a maximum working pressure of 27.6 bar
Available in foot and truck mounted designs
O-ring construction
Six vanes/blades design with vane drivers
Mechanically seal design with silicon carbide seal seat
Depending on the model, available with NPT or Class 300 RF flanges
Hydraulic drive option available
MATERIALS:
Pump casing and heads: Ductile iron
Cam and sideplates: Gray iron
Rotor and flanges: Ductile iron
Seal seat: Silicon carbide
O-rings: Buna-N, PTFE, Viton®, Neoprene®. (Registered trademark of DuPont)
Blades: Advanced polymers
FEATURES:
Self-adjusting sliding blades and blade drivers maximizes performance
Replaceable cam and sideplates and sideplates are reversible for twice the life
Removing the pump head gives full access to the internals without disturbing the piping
Can handle small amounts of vapor
The excellent suction lift is great for clearing suction and discharge lines
Internal relief valve is pre-set at the factory and is not adjustable
CORKEN PUMPS Z2000; Z3200; Z3500; Z4200; Z4500, bare

| | | | | | |
| --- | --- | --- | --- | --- | --- |
| type | FAS-Nr | capacity; l/min | dif. pressure, bar | flanges | weight, kg |
| Z2000 | 21296 | 220 | 10,5 | 2"NPT | 41,2 |
| Z3200 | 21297 | 450 | 8,6 | 3"ASME F/300-2"NPT | 55,6 |
| Z3500 | 21297 | 450 | 8,6 | 3"NPT | 55,6 |
| Z4200 | 21788 | 950 | 8,6 | 4"ASME/300-2"NPT | 113,2 |
| Z4500 | 21718 | 950 | 8,6 | 4"ASME/300-3"ASME/300 | 119,5 |
complete CORKEN pump units Z2000; Z3500; Z4500. Designed with E-Motor for stationery application. Designed and manufactured by FAS Germany

consist of: pump+motor +coupling+coupling protection+frame
| | | | | | |
| --- | --- | --- | --- | --- | --- |
| type | FAS-nr | capacity, l/min | design | motor, kW | weight, kg |
| Z2000 | 212251 | 220 | v-belt drived | 5 | 140 |
| Z2000 | 21225 | 220 | gear | 5 | 130 |
| Z3500 | 218089 | 490 | V-belt drived | 11 | 266 |
| Z3500 | 213160 | 490 | gear | 11 | 243 |
| Z4500 | 218088 | 950 | V-belt drived | 15 | 332 |
| Z4500 | 21808 | 950 | gear | 15 | 413 |
complete CORKEN pump units Z2000; Z3200; Z4200. designed for road tanker. Designed and manufactured by FAS Germany

consist of: pump+hydraulik engine+coupling+coupling protection
| | | | | | |
| --- | --- | --- | --- | --- | --- |
| type | FAS-nr | capacity, l/min | oil quantity, l/min | oil pressure, bar | weight, kg |
| Z2000 -OM80, 5,5 kW | 215720 | 220 | 58 | 100 | 52 |
| Z3200-OM100, 10kW | 21299 | 450 | 29 | 232 | 57 |
| Z3200-OM80, 8kW | 212993 | 400 | 52 | 110 | 57 |
| Z3500-OM100, 10kW | 21299 | 450 | 60 | 140 | 57 |
| | | | | | | |
| --- | --- | --- | --- | --- | --- | --- |
| CORKEN Z2000 | CORKEN Z32000 | CORKEN Z3500 | CORKEN Z4200 | CORKEN Z4500 | FAS-CORKEN Z3200 road tanker design | FAS-CORKEN Z3500 road tanker design |
| | | | | | | |